She wrote a column covering a range of social justice, environmental and women's issues for the Trinidad Guardian from 2002 – 2013 while also hosting and creating a number of events using Carnival and other festival arts as forms of protest or awareness building.
As a journalist she worked as writer/ researcher at 961WEFM, news feature writer at Trinidad Guardian, producer/presenter and Head of News at Gayelle TV and as cultural commentator on TV4.
In 2020 her essay 'Castles in the Sand' was included in New Daughters of Africa an international anthology of writing by women of African Descent, edited by Margaret Busby.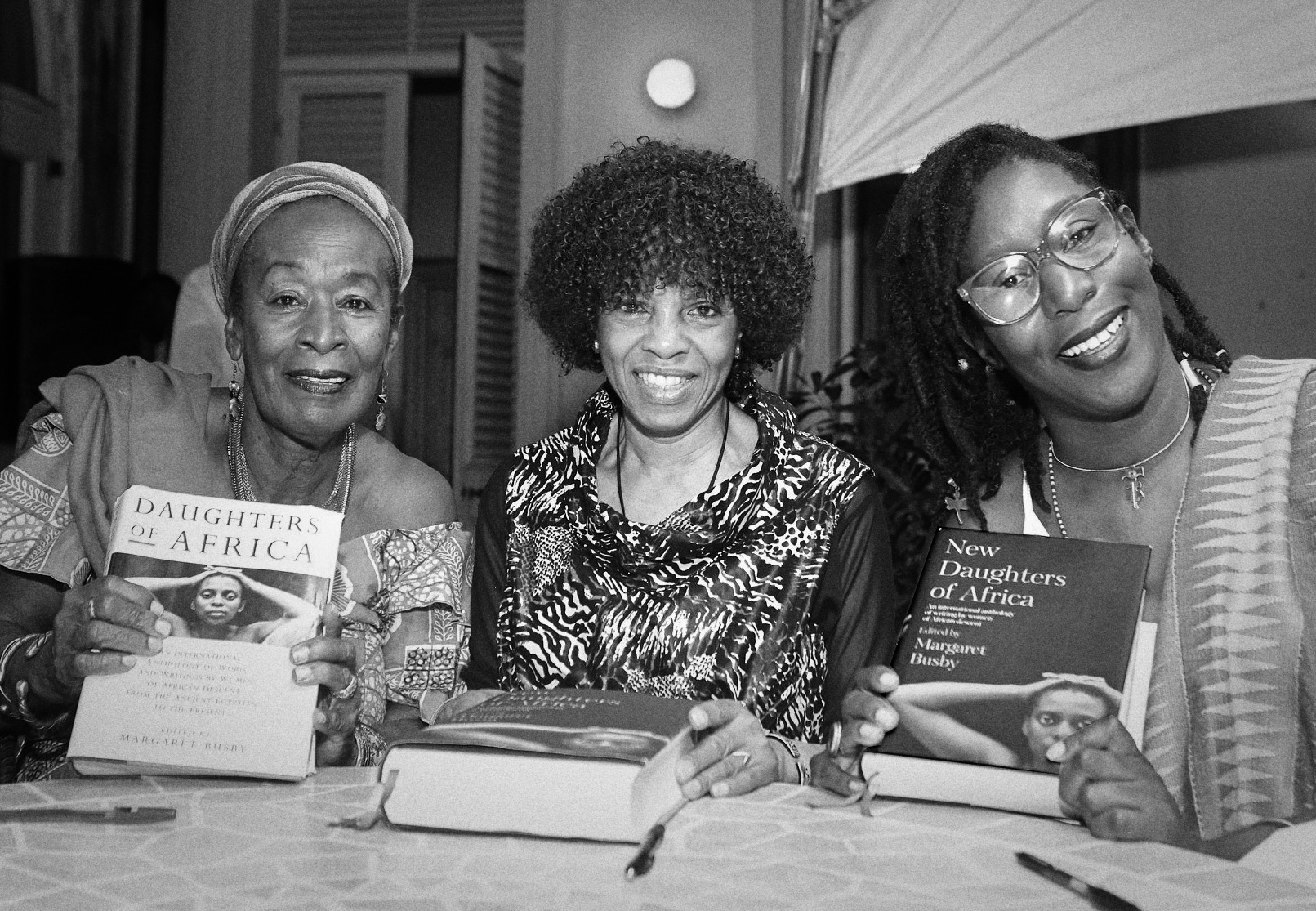 Zak Ove's continued explorations of Afro Futurism in sculpture and Lisa Brice's interrogations of the male gaze in art history
She has written papers and been part of discussions on social justice, African spiritual retentions, mas and grassroots Caribbean movements at conferences in Iceland, Brazil, Nigeria, Haiti and India.
She is also a Director of Idakeda Group, a collective of women in her family creating cultural interventions for social change. In 2021 she produced a docu-drama of 'Kambule' - a play written by her mother Eintou that documents the 1881 Canboulay Riots. 
Attillah's most recent project is the Wajang Diskotheque an evolving arts collaboration with Merten Kaatz and Peter Doig, located in Belmont, Trinidad.
Wajang Diskotheque brings together past and present literary, visual arts, film and music in different formats including 'I Belong to the House of Music' interview series which explores the connections between local music and the artists' creative journey. The Wajang Disko podcast digs into Trinidad and Tobago's extensive musical and literary archive to explore historical events and contemporary movements.
Carnival 2021
Kambule Campus Series of workshops focusing on the art and practice of Kambule in collaboration with Idakeda and UTT.
2019
30th Anniversary of Fall of the Berlin Wall, Port of Spain
Events in collaboration with UNHCR, Belmont Secondary School, German Embassy Port of Spain 
2017
Blow Way: The Legacy of Lancelot Layne
Emancipation events in collaboration with Cree Records, Big Black Box, Banyan and Peter Doig. 
Carnival 2014-2016
Curator, Unconquered Carnival Talks and Workshops in collaboration with The Cloth Caribbean.
Summer 2015
Collaborator, British Museum Celebrating Africa season
Summer 2012
Curator, T&T 50th Anniversary Independence celebrations, Tricycle Theatre, London 
Selected Papers, Presentations and Publications
March 2021
'Boundary Girl Speaks' - Lisa Brice "Smoke and Mirrors", Stephen Friedman Gallery
February 2021
New York Times interview "How a Trinidadian Communist invented Notting Hill's Carnival"
August 2020
Mixcloud Carni: World - Carnival and Gender, Panelist
August 2020
UN Women Caribbean UnLearn Series "Representation: the Role and Responsibility of Creative and Cultural Industries" Panelist.
July 2020
The Legacy and Future of Rebellion in the T&T Carnival, Panelist
April 2020
Bocas Lit Fest "Legacies of 1970", Panelist
March 2019
'Castle In the Sand', New Daughters of Africa, Myriad Publications
March 2016
'On Being a Pagan', Varsha Pratipada Hindu Parliament, Trinidad
March 2016
'Cockroach in Fowl Party', Panelist's Comments at 6th Annual Distinguished Jurist lecture "Whose Constitution?' by Professor Richard Drayton
June 2016
'Universal Declaration of Marronage' Closing Plenary of Caribbean Studies Association Conference, Port-au-Prince, Haiti
September 2016
'Feminism, Pan-Africanism and Identity in the Caribbean and the Diaspora', Black Feminist Forum, Bahia, Brazil
April 2014
'Orisa Retentions in Trinidad and Tobago' Fundamental Imperatives of Cohabitation Faith and Secularism Colloquium, Osogbo, Osun State, Nigeria.
November 2013
'A People's Art is the Genesis of their Freedom'
TEDx Port of Spain
September 2012
'Bittersweet Spirit The Story of Rum' - Museum of London
January 2010
'The Healer' Tate Britain Chris Ofili Retrospective
May 2006
"Global Voices, Caribbean Accents – A Roundtable on Blogging in the Caribbean" – Caribbean Studies Association Conference, Port of Spain.
199 Belmont Circular Rd.
Belmont
Port of Spain
Trinidad & Tobago
Phone: +1 868 794 45 47